Telugu Cinema refers to the
Telugu
film industry
. The industry is the largest in India in terms of number of movies made in a year and also in terms of infrastructure. It has the highest number of cinema halls in India. The
IMAX
theater in Hyderabad has a few world records to its credit. The industry has a few
Guinness records
for the most films directed by male and female directors, the most number of films produced by a person and also for having the largest film studio in the world.
[1]
.
The Telugu movie industry, the largest film Industry in India, is based in the state of Andhra Pradesh in India.
Currently, about 250 Telugu movies are released every year with approximately 3 releases every week. Just like any other film industry, the Telugu movie industry produces all genres of movies. In 2005, the annual turnover reached Rs. 2.3 Billion ($52 Million), with Rs. 700 million coming from the ticket sales itself. Popular movies tend to open during the three festive/holiday seasons of the region: Sankranti, Summer, and Dusshera. In 2004, the industry made around Rs. 1.5 Billion (150 Crores) during the Sankranthi season. There are at least three TV channels that are dedicated exclusively to feature programs related to Telugu movies.
History
Early development: 1921-1930
The Telugu film industry originated with the silent film in 1921, with the production of Bhisma Pratighna. The film was directed by Raghupati Venkaiah and his son R.S. Prakash[3]. The two would go on to produce and direct dozens of films throughout the decade, casting theater actors in major roles[4]. They established a long-lasting precedent of focusing exclusively on religious themes; Nandanar[5], Gajendra Moksham, and Matsyavatar, three of their most famous productions, centered on religious figures, parables, and morals[6].
Rise of the Talkie: 1931-1947
In 1931, the first Telugu film with audible dialogue, Bhakta Prahlad, was produced by H.M. Reddy[7]. Popularly known as 'talkies', films with sound quickly grew in number and fanbase. In 1934, the industry saw its first major commercial success with Lavakusa. Directed by C. Pullaiah and starring Parupalli Subbarao and Sriranjani in lead roles, the film attracted unprecedented numbers of viewers to theaters and thrust the young film industry into mainstream culture[8].
By 1936, the mass appeal of film allowed directors to move away from religious and mythological themes[9]. That year, under the direction of Krithiventi Nageswara Rao, Prema Vijayam, a film focusing on social issues, was released. Its success prompted the production of dozens of other immensely successful 'social films', notably 1939's Vandemataram and Malli Pelli. Touching on societal problems like the status of Untouchables and the practice of giving dowry, Telugu films increasingly focused on contemporary living: twenty-nine of the ninety-six films released between 1937 and 1947 had social themes[10].
The outbreak of World War II and the subsequent resource scarcity caused the British Raj to impose a limit on the use of filmstrip in 1943 to 11,000 feet[11], a sharp reduction from the 20,000 feet that was common till then[12]. As a result, the number of films produced during the War was substantially lower than in previous years. Nonetheless, prior to the ban, an important shift occurred in the industry: independent studios formed, actors and actresses were signed to contracts limiting who they could work for, and films moved from social themes to folklore legends[13]. 1942's Balanagamma typified these changes: the film featured fantasy elements of cultural lore, was produced by Gemini Studios, and its producers added a restricting clause to the lead actress' contract. By 1947, nearly all films were produced by studios with contracted actors.
Budgets
The budgets for Telugu movies typically range between 7-15 crores per film. Pre-lease revenues for popular films can range between 12-20 crores per film and post-release business for these movies can be around 25-40 crores depending on the success of the movie. Popular actors like , Nandamuri Balakrishnaa>, Akkineni Nagarjunaa>, Venkatesha>, Mahesh Babua>, and Jr.NTRa> are some of the highest paid actors in Telugu Cinema. Singers: Telugu film industry has the reputation of producing many singers like Ghantasala and S.P.Bala Subramanyam. S.P.B holds the record singing maximum number of songs (39000 songs approximately)
Fans
Well-known stars of Telugu Cinema have devoted fan followings in the South. Nandamuri Taraka Ramaraoa>,Akkineni Nageswara Raoa>,Krishna, Chiranjeevia>, Nandamuri Balakrishnaa>, Akkineni Nagarjunaa>, Venkatesha>, Mahesh Babua> and Jr.NTRa> are very popular and enjoy a significant fan following among the Telugu movie audience.
Trivia
Viswa Vikhyata Nata Sarwabowma Padmasri Dr. Nandamuri Taraka Ramarao, popularly known as 'NTR' and fondly called as 'ANNA' by many, is one of the greatest actors ever to grace the Telugu silver screen. He was a versatile actor, director, producer and a great leader who acquired a permanent place in the hearts of millions of Telugu People all over the world. His unique style of acting has inspired many upcoming actors and hopefuls but none have even remotely been able to match his natural, exclusive style. His respect towards his motherland and mother tongue served as the base to his popularity. He was an institution by himself and is an icon of discipline and self pride. Know more about this Legendary leader @ Nandamurifans.com

>
SAMBHAVAMI YUGE YUGE PART1


SAMBHAVAMI YUGE YUGE PART 2ont>
SAMBHAVAMI YUGE YUGE PART 3ont>
N B K
Nandamuri Balakrishna fondly called by his fans as NBK,Balayya needs no introduction. He entered the film Industry at the age of 14 through his home production Tatammakala, in which he had the opportuinty to work with the two legends of Tollywood, Late Sri NTR and Dr. Bhanumati Ramakrishna. For 10 successive years he acted off and on in movies mostly produced under his home production. 1984 is the year when his first movie as a solo hero was released and interestingly he acted in very less number of movies made under his home productions after that.
Even though entered the film industry because of his father, later his hard work, discipline, talent and dedication made him stand in the industry. He had been acting in movies for the past 27 years but unlike some of his peers, he never cared to celebrate the 10th or the 25th anniversaries of his movie career. He is a simple person and likes to stay away from publicity, which is one of the factors that didn't get him the due recognition. He believes in Astrology and Numerology and doesn't want to do things in "Rahu Kaalam".
He acted in a movie called Annadammula Anubandham, a remake of Dharmendra's hindi hit Yadonki Barat at the age of 16. Upon watching this movie, the other legend of the Telugu film industry Sri. ANR's comment was "Simham Kadupuna Simham Puttindi". Interestingly he acted in a brother's role to his real life father in that movie as well as in "Rowdy Ramudu Konte Krishnudu", and in a son's role to his real life brother Hari Krishna in the movie "Dana Veera Sura Karna". He won the hearts of many people for his role of "Abimanyudu" in that movie, which also had his legendary father dominating most of the scenes in a triple role. In the year 1984, he acted in 3 blockbusters, "Mangamma Gari Manavadu", "Kathanayakudu" and his home production "Sri Madvirat Potuluri Virabrahmendra Swamy Charitra".
In the year 1986, he had delivered 6 hits in a row. During the year of 1993 only two of his movies were released and surprisingly both of them were released on the same day. This is one of the unique feats that none of his contemporaries would ever dare to try. He bid farewell to the previous millennium in style by giving the biggest hit of the previous millennium with "Samara Simha Reddy".
NBK is famous for his roles in the movies made with village backdrop. The undeniable factor is that, among his contemporaries, he is the only hero who is best suitable for playing the mythological and folklore roles in movies, for which his legendary father was famous. He worked as an associate director for his father's last directional venture (Samrat Asoka).An ardent fan and admirer of his father, he had equal if not more respect for his father's contemporaries. His dream projects are Gona Ganna Reddy and Chenghis Khan and want to direct these movies under his own banner.
We at NBKFANS.COM wish him all success in his future projects and life
Jr N T R
Tarak aka Nandamuri Taraka Rama Rao (born May 20, 1983) more popularly known as Jr. NTR or NTR is the grandson of the Legend Nandamuri Taraka Rama Rao. Tarak was born and brought up in Hyderabad. His parents are Harikrishna Nandamuri and Shalini. Tarak went to Vidyaranya School in Hyderabad, and later to St Mary's Junior College. His family members include sister Suhasini and two brothers Kalyan Ram and Janaki Ram. Tarak began his career as a child actor in Bala Ramayanam, which was produced by MS Reddy. Tarak debut movie as hero was Ninnu Choodalani released in the year 2001 and produced by Ramoji Rao. He went on to gain fame with Student No.1 (also released in 2001), directed by S.S. Rajamouli, followed by Subbu, Aadi and Allari Ramudu. In January 2003, Tarak's film Naaga performed average, even though it was produced by one of India's finest producers, A.M. Ratnam. However, In July 2003 Tarak's Simhadri became the highest grossing film of the year in Tollywood.
VENKATESH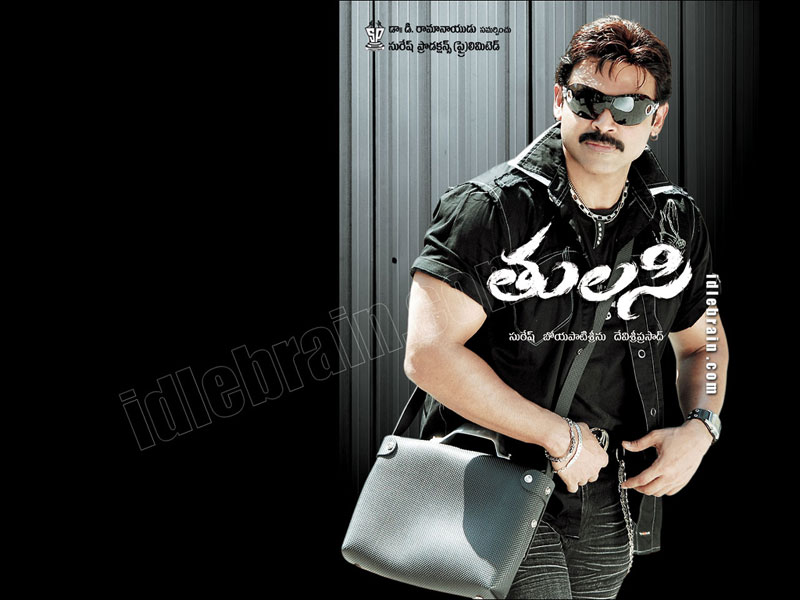 Daggubati Venkatesh (Telugu: దగ్గుబాటి వెంకటేష్) (born on December 13, 1960) is an Indian film actor who stars in Tollywood films. He is the son of veteran Tollywood producer D. Rama Naidu. He is popularly known as Victory Venkatesh in Tollywood.
Background
Venkatesh graduated with an MBA degree from the Monterey Institute of International Studies, USA. After his return to India, he wanted to get into production. He became an actor in telugu films. His father, D. Rama Naidu and his brother D. Suresh Babu successfully runs one of the most prestigious banners in Telugu Cinema, Suresh Productions. He is married to Neeraja and has a son, Arjun Ramnath, and three daughters, Aashritha, Hayavahini and Bhavana.
Career
Venkatesh debuted through Kaliyuga Pandavulu in 1986. Just two years old as an actor, Venkatesh acted in Swarnakamalam directed by Kasinadhuni Viswanath. Varasudochadu, released in the same year, was another trophy. After a few flops, he got a break in the form of Bobbili Raja. Added to the name and performance of Venkatesh was delightful Divya Bharati, good comedy and melodious music. Bobbili Raja was a musical hit and also entertained audience from all sections because of it's ingredients. In Shathruvu, Venkatesh played angry young lawyer who takes law into his hands after failing to fight the corruption through the court. Venkatesh has also worked with famed Bollywood director Ram Gopal Varma in the film Kshana Kshanam, which was a huge success at the box office . Chanti, a remake of Tamil movie Chinna Thambi, happened in 1991. Chanti was definitely a challenging project for Venkatesh. Chanti was a box office hit and Venkatesh's career benefitted hugely by it. Anari was the remake of Chanti in Bollywood's Hindi cinema. Venkatesh started becoming a family hero and turned out a huge fan following among women. Venkatesh has acted in a lot of blockbusters. His recent film, Aadavari Matalaku Ardhale Verule is a hit. His recent film Tulasi is an average flick.
NAGARJUNA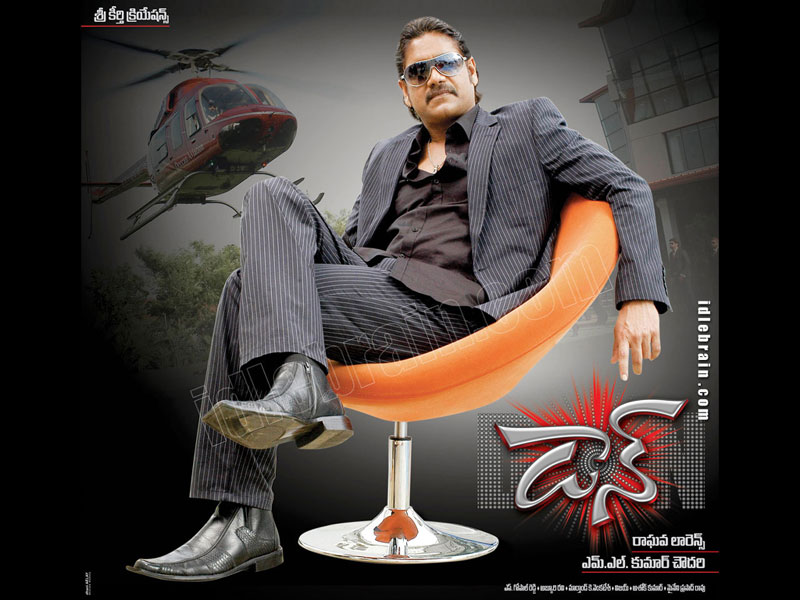 Akkineni Nagarjuna Rao (Telugu: ఆక్కినేని నాగార్జున) (born August 29, 1959 in Chennai, India), often known as Nagarjuna, is a popular Telugu Cinema actor and a successful producer. He is the son of veteran actor, Akkineni Nageswara Rao, who was an actor in the 1960s and 1970s.
[edit]

Personal
Nagarjuna was born to Telugu cinema star Akkineni Nageswara Rao and Annapurna Akkineni. Nagarjuna did his schooling at Hyderabad Public School and later went to Little Flower Junior College to do his intermediate. After that, he went on to do mechanical engineering at the University of Michigan, Ann Arbor, MI and later got a masters degree in Automobile engineering at San Jose.
He was first married to the daughter of Ramanaidu (she is the younger sister of actor Venkatesh ) in his early twenties and they both divorced later years . they had a son Naga Chaitanya.He then married to Amala who was a popular actress in Tamil and Telugu film industries ,They had a son Akhil who featured as Nagarjuna's son in Sisindri.
[edit]

Career
His first movie Vikram released on May 23, 1986 was a remake of the HindiHero. After acting in four films, he acted in Majnu as a tragedy hero; similar roles were known to be his father's forte. He acted with his father in the movie Collectorgari Abbayi.Akhari Poraatam co-starring Sridevi that ran for 100 days in 12 centers. Geethanjali a love story directed by Maniratnam followed by Shiva an action film directed by Ram Gopal Varma were highly successful and established him as one of the top heroes. He was known for encouraging new directors such as Ram Gopal Varma by giving them a chance to make movies with him. He also made his Bollywood debut with the Hindi remake of Shiva. Movies such as President Gari Pellam and Hello Brother gave him the status of a mass hero. After that, Ninne Pelladutha directed by Krishna Vamsi followed and was a huge hit. Later, he took up the challenge of portraying Annamacharya, the legendary singer/poet of medieval times in the movie Annamayya It ran for 100 days in 42 centers and is one of the biggest hits in Tollywood. He won the National Award for this role in Special Jury. He is the only actor in Tollywood to receive this award. film His first big hit was
In 2004, Nagarjuna had two releases, Nenunnanu and Mass, the latter going on to become a hit.[1]. In 2005, Nagarjuna had one release, Super. Super didn't reach up to the exceptations. In 2006, Nagarjuna had two releases, Sri Ramadasu, a period film based on the life of great saint-composer Ramadasu, directed by K. Raghavendra Rao, and Boss, I Love You. Sri Ramadasu was a big hit at box office however Boss, I Love You was a flop.[2]Don, which was directed by Raghava Lawrence.